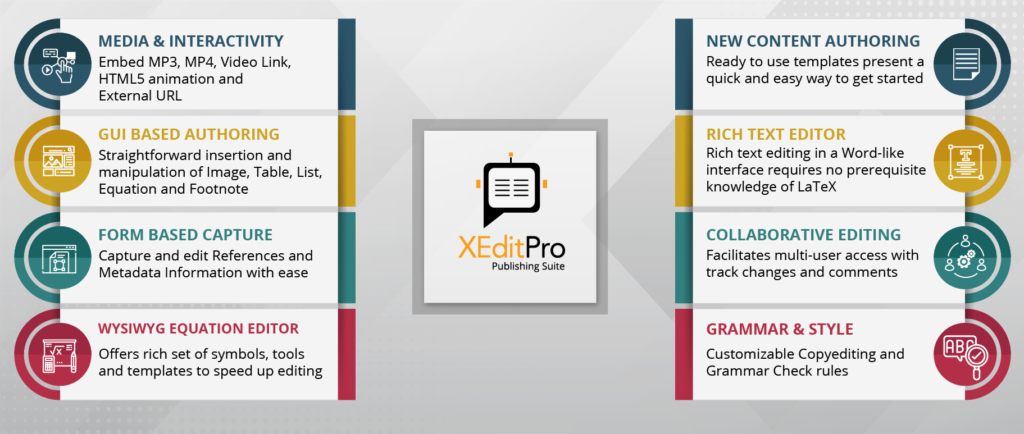 XEditPro offers a start-to-finish authoring platform with all the tools at your fingertips for every stage of your manuscript. This makes a world of difference to not only create amazing author experiences but also helps you to to get to value quickly and be more productive. XEditPro also provides the opportunity to connect with other research fellows and practitioners through tools for sharing, reviewing and commenting.
As you embark on your author journey, do it with the following benefits:
Better editing & author experience
A growing library of predesigned templates provides a quick way to get started
View composed file directly using a deep link and perform content updates using a Word-like interface.
Author or update content in the editor pane and preview the corresponding updates in the right pane by just a click of button. Updated XML/PDF/EPUB is available instantaneously after revises.
Auto spell and grammar check feature helps to eliminates common error types, inconsistent terminology, contextual spelling errors and grammar mistakes.
EPUB and XML viewer is incorporated in XEditPro for checking EPUB and XML version within the editor.
Digital Asset Management (DAM) – Allows to embed images in content by uploading images from a central repository (including Metadata entry). Images can be resized, corrected, and manipulated within XEditPro itself. Editors/Authors can monitor and track rights-managed images.
Media and interactivity is central to the ethos of any publication and XEditPro's straightforward insertion and manipulation capabilities comes in very handy
Reference creation and validation is made easy with form-like interface. References can be created adhering to styles and inserted automatically based on DOI/PubMed ID input.
Enriching the content delivers significant value
Metadata is captured at tables/lists/boxes/paragraph/images levels as its value increases with granularity. Metadata information includes alt text and long description.
Metadata is rendered automatically in EPUB.
VitalSource (ADA compliant PDF) is also a part of the deliveries.
Choose the authoring platform that's right for you
XEditPro is the go-to authoring solution for students, faculty and staff as it provides all of the above benefits without the fuss of requiring knowledge of LaTeX.